Area Rugs: Braided Rugs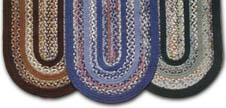 Braided rugs are made by plaiting and coiling material. They are usually oval but can be round as well. Braided rugs are cheerful, handmade rugs produced using scraps of fabric or wool. Antiques - especially early North American braided rugs - can be expensive, but their modern equivalents are much more reasonable.
Brand Overview
---


---
Profile
|
Website
Thorndike Mills melds the techniques of yesteryear with modern day technology. Using only the highest quality NEW cloth material or yarn-spun fabric, Thorndike Mills creates authentic reproductions of Colonial Americana, as well as designs to compliment today's country décor with their original design heirloom quality braided rugs.